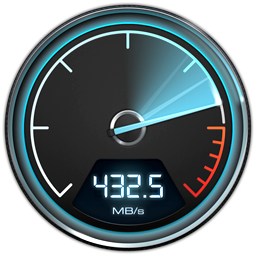 Maybe you ask yourself why your mac not running well like the first time you bought it…
If your mac 4-7 years old, probably the hard drive should be replaced by new one.
Usually, drives can be work 8 years, but after several years they are frazzled and have issues.
Run Drive test
go to itunes appstore:
https://itunes.apple.com/us/app/blackmagic-disk-speed-test/id425264550?mt=12
Click on > Download Free > than Install
Enter you apple ID (Free acount)
close all apps before running the test
you can use the "circle" button to test external drives
Result & compare
there are 2 kind of speeds! Read & Write.
Read = the drives reading, loading the OS X, softwares, etc….
Write = the speed of your drive when you copy new files into your mac.
Compare your results to new drives!
Sata drives
mac models 2007-2010 – new drive have 100mb/s (read), 95mb/s (write)
models 2011-2014 – 150(R), 140(W)
models 2015-2016 – 160(R), 150(W)
SSD Drives
models 2007-2010 have 200-230(R) and 150(W)
models 2011-2014 have 450(R) and up to 250(W).
models 2015-2016 have 750-1000mb read & write (retina models, mac pro – black).
Should I need to replace my drive?
if the drive lost 10-15% your drive ok
if 20-30% you sould start thinking about it (if your drive is sata, upgrade to SSD)
if 40-50% you need to replace soon (few months)
if you drive lost 70% or more (work on 30-40mb/s read) need to replace immediately. you DATA at risk. use time machine backup now!
What's killing your drive?
download softwares like torrent, emule (when you write data to your drive)
If you running VMware like Parallels software
If you close your macbook without shuting down!
Replace hard drive apple
we hope "black magic" software help you to understand the status of your drive.
Mac-repair provide Hard drive replacement and upgrades to apple machines: Macbooks, iMac, Mac mini and even Mac Pros.
We are working with original parts only and very good brands! Many years of experiences.
Our Lab located in Israel Country (Ramat Gan – Center). Contact our customers suppport
---