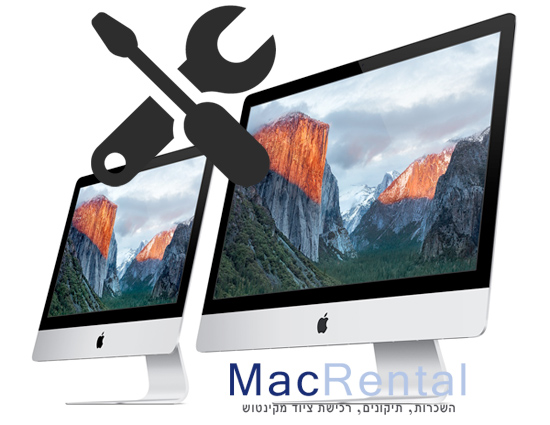 Here you can find a list of common issues of iMac desktop machine (all in one – apple).
Our lab in Israel provide full service for hardware and software issues. Contact us 0507192019 hagy
The are 2 kinds of imacs
the old one with the DVD drive on right side (models 2009-2011)
The thin on without DVD, (models 2012-2019)
The old one are very easy to open – remove glass + 8 screws.
The new model have monitor attach with glue. Need to remove the glue and after, put a new one.
List of Issue
If you try to power on and there is no signal, no sound or power, most of the time the issue in the logic board or Power supply.
Try to remove any cable or drive attached to the imac, wait 15min, then try to power on.
2. The imac turned on but there is a gray screen, or world icon.
Try to power on, and press "alt" key. If you see your drive, click enter.
If your imac is 1-2 years old most of the time the issue with the OS X. Need to try repair it or do format.
If your imac 4-6 years old, you should replace your drive to ssd.
3. The imacs have a lot of issues with the GPU. sometimes gray screen or black screen = hardware issue.
The fix it, must to replace the GPU chip by new one.
4. Beeps – most of the time it's RAM issue. if you have "27 thin model or old models like 2009-2011. You can remove the ram by yourself, clean it with alcohol.
Also you can try to turn it on and press Command + Alt (option) + R + P   .  wait until the screen flush and you hear the gong sound. then release.
How we test it?
We have OS X operating system on external drive.
We power on the imac, press "alt" key and load from the external drive.
If there is no crush, we can know that the issue with the internal drive or OS X.
If the imac crushed with external OS X, the issue with the logicboard, ram or other parts.
Mac-repair Israel
We have the knowledge, experience and tools to provide you successful serivce.
Our lab locate in Ramat Gan city Israel.
Mac-Repair customer service will be happy to assist you
---